[an error occurred while processing this directive]
---
Finally, It's Summer!
Summer is finally here, and with it a slew of activities, kicked off by the all-day Fourth of July festivities.
Here in Newton, we can take advantage of fresh, Massachusetts-grown produce by shopping at the Farmers' Markets, attend a myriad of events produced by the City of Newton and sponsored by many civic and business organizations (check out the July and August calendars), go swimming in Crystal Lake and/or Gath Pool, and generally take advantage of the many parks.
---
Opening Friday, July 6, the Newton Farmers' Markets operate, rain or shine, on two days, each at a different location, until the end of October: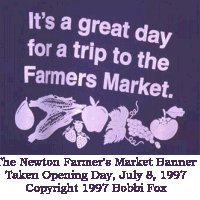 Tuesdays, from 1:30 p.m. to 6:00 p.m. at Cold Spring Park (1200 Beacon St, just west of Walnut Street), wheelchair accessible, and there is ample parking.
Fridays, from from 1:30 p.m. to 6:00 p.m. at the American Legion Post 440, 295 California St.
The Farmers' Market features Massachusetts-grown produce, plants, jams and jellies, fish, turkey pot pies, cheese, cider, and baked goods. In addition, Newton Pride maintains a booth where you can order bulbs for fall planting.
The City of Newton and Newton Pride co-produce several performance series in July and August through the Arts in the Parks program. Many of these events are sponsored by various civic groups and local businesses.
For more information, call (617) 796-1540.
(Centre Street and Langley Road; Green Line to Newton Centre)
Performances from 6:15 p.m. -- 8:15 p.m. FREE
July 8: White Heat Swing Orchestra. 15 piece orchestra playing the swing and jazz of the 30's and 40's.
July 15: Mystic Chorale. A concert that envelops the audience in the power and joy of music from all over the world.
July 22: Edwin Pabon y su Orquesta. Authentic Salsa band complete with teaachers to get the audience up and dancing.
July 29: Wildest Dreams. Andy Holiner and Alice Johnson with their irresistible blend of African downbeats, rollicking calypso, roots reggae and R&B.
A 1-hour long performance series in July, 1:00 p.m. Free performances are at Newton Cultural Center Front Lawn
225 Nevada Street, Newtonville
(rain location: Cultural Center Auditorium)
July 10: Michael Zerphy. Music, juggling, humor and a zany style keeps the audience delightfully engaged.
July 17: Benjamin the Clown. Trained with the Moscow Circus, Benjamin mixes breathtaking juggling with comedy.
July 24: Wayne Potash. Musican/singer involves audience participation.
A 1-hour long performance series in July, 1:00 p.m. Free performances are at Ware's Cove in Auburndale (Going west on Comm. Ave., turn right on Melrose Street; left at West Pine). Rain location in adjacent fieldhouse .
Rain location in adjacent fieldhouse.
July 12: David Polansky. singer, trumpeter and music teacher for Arts in the Parks, with a high energy fun performance.
July 19: Gerwick Puppets. Len Gerwick brings his charming puppets to perform "The Missing Woodpile".
July 26: Tom McCabe. Delightfully dressed storyteller with a special style.
Enjoy the sounds of the Big Bands as you dance under the stars on a warm summer evening. Bring chairs, blankets and dancin' shoes. FREE
Wednesday, August 1, at 6:30 p.m.: U.S. Airforce Band of Liberty. Big Band sounds of the 30's and 40's from the orchestra made famous at Norumbega Park. Pellegrini Park, Hawthorn Street, Nonantum
Wednesday, August 8, at 6:30 p.m.: Bob Bachelder & Totem Pole Orchestra. Big Band sounds of the 30's and 40's from the orchestra made famous at Norumbega Park. Newton History Museum, 527 Washington St.
---
Even before I moved to Newton, I always looked forward to the picnicking and music at Albemarle Field, culminating in a wonderful display of fireworks -- not as elaborate, perhaps, as the better known concert and fireworks on Boston's Esplanade, but a lot easier to get to (and the fireworks are a lot closer!)
As an added bonus, most years, we can also see the fireworks from the neighboring City of Waltham, which starts its fireworks shortly before Newton's ends.
The City of Newton, in cooperation with several civic groups and local businesses, puts on a full day of activities:
Kids Morning at Newton Centre Playground:
10:00 a.m. to 12:00 Noon (cancelled if raining): Grande Pet Parade, Teddy Bear Parade Decorated Doll Carriage Promenade, Foot Races. FREE Candy, Drinks &Ice Cream.
Master of Ceremonies, Mayor David B. Cohen
12:00 noon -- dusk: Open Air Market & Amusement Rides at Russell J. Halloran Sports Complex (Albemarle Field off Watertown St., Rt. 16).
Handmade and International Crafts, Professional Dealers, Food Vendors
6:00 p.m.: Picnic & Concert at Albemarle Field, featuring Zaitchik Bros Big Band Sounds.
At Albemarle Field. Bring blankets and lawn chairs Food Vendors, Crafters, Novelties
9:00 p.m.: Fantastic Fireworks at Albemarle Field
---
The Newton Parks and Recreation Department maintains many parks and green spaces in the City. A list of these appears the City of Newton's website.
---
[an error occurred while processing this directive]

Home | About Newton | What's New | Community Calendar Newton's 13 Villages | Local Politics
Community Housing Organizations | On-line Tours | Arts Organizations
Environmental Organizations | School Doin's
Newton High School Reunions | Faith Communities | Colleges
Policies

Newton, Mass., Citizens Web Pages www.newtoncitizens.com
Webweaver: Bobbi Fox, bobbifox@newtoncitizens.com
Copyright (c) by Bobbi Fox.
Last Updated: Friday, 06-Jul-2007 10:26:35 EDT