[an error occurred while processing this directive]
---
Finally, It's Summer!
Hard to believe, but, despite the fact that, basically, we had no Spring, Summer is finally here, and with it a slew of activities, kicked off by the all-day Fourth of July festivities.
Here in Newton, we can take advantage of fresh, Massachusetts-grown produce by shopping at the Farmers' Market, attend a myriad of events produced by the City of Newton and sponsored by many civic and business organizations (check out the July and August calendars), go swimming in Crystal Lake and/or Gath Pool, and generally take advantage of the many parks.
---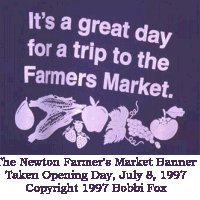 Opening Tuesday, July 6, the Newton Farmers' Market operates, rain or shine, from 1:30 p.m. to 6:00 p.m. every Tuesday until the end of October (October 28th this year). Located in Cold Spring Park (1200 Beacon St, just west of Walnut Street), it is wheelchair accessible, and there is ample parking.
The Farmers' Market features Massachusetts-grown produce, plants, jams and jellies, fish, turkey pot pies, cheese, cider, and baked goods. In addition, Newton Pride maintains a booth where you can order bulbs for fall planting.
The City of Newton and Newton Pride co-produce several performance series in July and August through the Arts in the Parks program. Many of these events are sponsored by various civic groups and local businesses.
For more information, call (617) 552-7130.
(Centre Street and Langley Road; Green Line to Newton Centre)
Since I live a hop, skip, and a jump from the Newton Centre Green, I can often be found there on Sunday evenings, enjoying the variety of ethnic food available, admiring the crafts, and listening to the music. The crafts and food start at 5:30 p.m., with the performances at 6:15 p.m. -- 8:15 p.m.
Performances:
Sunday, July 11: Myrtle Baptist Church 130th Anniversary Celebration with The LoveTones -- Acapella men's group of Motown and Gospel Singing
Sunday, July 18: Zaitchik Bros..
Outstanding vocals and dance music from the Swing Era, Motown and Rock'n'Roll
Sunday, July 25: Black Sea Salsa.
Armenian and Afro-Cuban blend. Mambo, Armenian line dance and a little bump and grind!
Sunday, August 1: Rumbafrica

Sweet vocal harmonies and lilting dance rhythms of classic Zairian rumba as well as non-stop beat of modern Soukous
6:30 p.m. -- 7:30 p.m.: A new performance series sponsored by The Newton Pride Committee Planned for everyone who wants to meet, picnic and enjoy a performance after a busy Monday.
Monday, July 19: John Burrows and the Cocabanana Band
Images of the Caribbean makes one move and sway to the ocean rhythms. Audience becomes part of the rhythm section.
Location: Russell J. Halloran Field near Gath Pool ( 256 Albemarle Rd.) (Rain Location at Horace Mann School at end of field)
Monday, July 26: Dana
On tour from Washington State, Dana returns with her dynamic and energetic country, pop, jazz and rock concert.
Location: Ware s Cove, West Pine Street, Auburndale West on Comm. Ave.(Rt. 30) right on Melrose, left on West Pine
7:15 p.m. -- 8:15 p.m.. A concert series in a lovely outdoor setting at Newton History Museum at the Jackson Homestead, 527 Washington St., Newton Corner. Exit 17 off Mass Turnpike (between Walnut St. and Exit 17.)
Gates open at 5:00 pm for picnicking & visiting Museum. No smoking. Please plan to take your picnic remains home with you!
Rain location: Newton North High School Auditorium - 7:30 pm Lowell Ave., Newtonville.
Tickets: Adults $6.00, Seniors $4.00, Children (12 & under) $2.00.
Performances:
Tuesday, July 13, at 6:45 p.m. (note special time and special price: $6.00 for all tickets!) Teddy Bear's Picnic With Gary Rosen
Bring teddy bears and join Gary and his live dancing teddy for an evening of family fun!
Tuesday, July 20 at 7:15 p.m. Bill Staines
Bill's singing and effortlessly rich guitar playing reveal a literate writer with a talent for turning American still lifes into moving pictures.
Tuesday, July 27, at 7:15 p.m.: New Folk Festival
Meet and listen to the exciting new and upcoming performers on the folk scene: Matt & Shannon Heaton and Halali with Brian O Donovan of WGBH 89.7's A Celtic Sojurn as Master of Ceremonies.
(Tyler Terrace off Centre Street)
Rain location at the adjacent Mason Rice School
A 1-hour long performance series in July at 1:00 p.m.:
Wednesday, July 14: Wayne Potash.
familiar songs with delightful guitar playing and interaction.
Wednesday, July 21: Marcus Gale.
Sing, dance, jump and wiggle!
Wednesday, July 28: Gerwick Puppets
-- and The Mystery of The Missing Woodpile.
A 1-hour long performance series in July, 1:00 p.m. Most performances are at Ware's Cove in Auburndale (Going west on Comm. Ave., turn right on Melrose Street; left at West Pine). Rain location in adjacent fieldhouse .
Rain location in adjacent fieldhouse.
Performances:
Thursday, July 8: Peter Gross
Magic and comedy for a high energy show that is fresh and exciting.
Thursday, July 15: Benjamin the Clown
Trained by the famous Moscow Circus, Benjamin brings a sense of humor and timing all his own.
At Pellegrini Park Watertown St. (Rt. 16), take right on Hawthorne St. (rain location in adjacent gym)
Thursday, July 22: ZOLA
Delights and enriches with song and dance, stories and puppets.
Thursday, July 29: Magpie Puppets
Eeyore's Birthday -- based on the A. A. Milne Winnie-the-Pooh story.
Enjoy the sounds of the Big Bands as you dance under the stars on a warm summer evening. Bring chairs, picnics, your dancing shoes and memories!
Wednesday, August 4, at 6:45 p.m.: Totem Pole Orchestra with Bob Bachelder
Big band sounds of the 30's and 40's from the orchestra made famous at Norumbega Park in Auburndale.

Pellegrini Park -- Hawthorne Street off Watertown Street.
(Rain date: August 5
Wednesday, August 11, 6:45 p.m.: Tom LaMark Orchestra
Big band sounds with upbeat modern rhythms to the old favorites. (Rain date: August 12).

West Newton Common is at Webster & Elm Sts. Take Washington St. West from W. Newton Square. Turn right onto Elm Rd.
---
Even before I moved to Newton, I always looked forward to the picnicking and music at Albemarle Field, culminating in a wonderful display of fireworks -- not as elaborate, perhaps, as the better known concert and fireworks on Boston's Esplanade, but a lot easier to get to (and the fireworks are a lot closer!)
As an added bonus, most years, we can also see the fireworks from the neighboring City of Waltham, which starts its fireworks shortly before Newton's ends.
The City of Newton, in cooperation with several civic groups and local businesses, puts on a full day of activities:
Kids Morning at Newton Centre Playground:
10:00 a.m. to 12:00 Noon : children under 12 and their families; includes Grand Pet Parade, Decorated Doll Carriage Promenade, Decorated Bicycles, Teddy Bear Parade, Foot Races
12:00 noon -- dusk:Open Air Market at Russell J. Halloran Field and Sports Complex (Albemarle Rd. off Watertown St.)
6:00 p.m.: Concert at Albemarle Field, featuring the wing dancing and big band sounds of the Winiker Orchestra
9:00 p.m.: Fantastic Fireworks at Albemarle Field
---
The Newton Parks and Recreation Department maintains many parks and green spaces in the City. A list of these appears the City of Newton's website.
---
[an error occurred while processing this directive]

Home | About Newton | What's New | Community Calendar Newton's 13 Villages | Local Politics
Community Housing Organizations | On-line Tours | Arts Organizations
Environmental Organizations | School Doin's
Newton High School Reunions | Faith Communities | Colleges
Policies

Newton, Mass., Citizens Web Pages www.newtoncitizens.com
Webweaver: Bobbi Fox, bobbifox@newtoncitizens.com
Copyright (c) by Bobbi Fox.
Last Updated: Wednesday, 07-Jul-2004 15:53:34 EDT